JOHNNY RAMENSKY
Over the past few days Johnny and i have been discussing some of the old characters he encountered within HMP Peterhead during his sojourns there and two names came to the fore, Sonny Leitch, otherwise known as 'The Saughton Harrier' and 'Dangerman'. Johnny is a close friend of Sonny and we will write about Sonny and his amazing story but that is for another time. The other was one  Johnny Ramensky a friend of Sonnys and a true Scottish hero that deserves recognition for his service to his country, criminal or not.
Johnny Ramensky was a complex man who was both a criminal and a war hero, an escape artist who spent most of his life in prison and an accomplished cat burglar who was  looked upon with affection by the police who arrested him due to him always surrendering peacefully earning him the nickname, 'Gentle Johnny Ramensky' He became something of a legend and folk hero due to his many escapes from prison (and a Military Medal he won as a result of his heroics behind enemy lines in WW2). Johnny Ramensky was certainly not a pillar of society but his personal qualities earned him much respect both from his peers and gaolors.
Johnny Ramensky was born in 1905 and was the son of a Lithuanian immigrant. His father was a coal miner who sadly died when Johnny was young.  The young  Ramensky also became a miner.It was while working down the pit that he learned his skills with explosives which were to prove so useful to him in years to come.
Johnny moved to the Gorbals area of Glasgow during the Depression with his mother and two sisters. Whilst living here he developed an amazing physical strength and acrobatic ability and in order to make some money, he became a cat burglar, his speciality being robberies involving climbing up rone-pipes to gain entry to commercial premises. He also developed his skills in picking locks and cracking safes with explosives.
His activities were undoubtedly criminal, but he had his own code of ethics and burgled commercial premises never people's homes. When he was caught, he never resisted arrest. The philosophy he seemed to have adopted seemed to be be "if you are caught, you are caught – it comes with the territory".
His prison life began at age 18 when he was given a term in Borstal he later he served various terms both in Barlinnie and Peterhead Prisons. He eventually spent more time behind bars than at liberty.
Johnny  married during a spell out of prison and had a baby daughter. Sadly in 1934 his young wife died while he was serving a sentence in Peterhead. Johnny Ramensky was refused permission to attend the funeral and his sense of justice was outraged. This became the catalyst to the first his of many escapes.
In 1942 during WW2, he was serving another jail sentence in Peterhead Prison.  It was here the army offered to give him special commando training which Johnny accepted. This meant he was out of prison,  and fighting for his country. He was part of a crack commando unit, and  was dropped behind enemy lines where he used his skills with both explosives and burglary to good effect, stealing important German documents.
In Italy, he entered Rome with the first troops to reach the city where he blew open the safes of 14 foreign embassies – all in one day!
For his service in the commandos and his taking a leading role in dangerous missions, he was awarded the Military Medal and given a free pardon at the end of the war. After his return to Glasgow though it wasn't long until he was back to his life of crime, caught and jailed again.
November 1955 saw Johnny being sentenced to 10 years' "preventive detention" at Peterhead Prison, which should have given him a few privileges. He found there were none. Having served over two years with exemplary conduct there was still no move to the better conditions of "preventive detention". So Johnny Ramensky responded in the only way he knew how – he escaped. He was later recaptured and given an opportunity to put his case to the prison authorities, which achieved nothing. Johnny escaped from Peterhead (Scotland's strongest jail) no less than five times including three times in 1958 alone. The prison warders didn't know whether he was inside or outside the prison half the time. His fifth escape spread sympathy amongst the public which was illustrated by a song "The Ballad of Johnny Ramensky" by Norman Buchan who was a Member of Parliament.
It wasn't long after starting a prison sentence in Barlinnie in Glasgow that Johnny whilst in the exercise yard, suddenly threw off his boots and shot up the wall, he used the cracks in the mortar as toe-holds. He reached the roof but could get no further. That said though the warders couldn't get him down, and Johnny was demanding to see the Chief of the Prisons Department! Any attempts to reach the roof were met by a barrage of roof slates. Johnny stayed on the roof for five hours, eventually coming down when it started to get cold.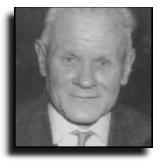 In 1962 Detective Superintendent Robert Colquhoun (retired), said "Like most policemen who have come in contact with Ramensky, I find him an engaging character, the kind of man who, applying his brain to another, more acceptable, type of occupation, could probably have made good." Before he had retired, DS Colquhoun received a message from Johnny (who was once more in prison). He had heard that the policeman was seriously ill. The message contained his good wishes for his speedy recovery, plus the advice that he'd been taking too much out of himself chasing Johnny around!
Johnny remarried and started a second family during his all too short periods out of prison but persisted in his life of crime into his old age – by which time his abilities as a cat burglar were beginning to fail him. In 1972 he collapsed in Perth Prison and died shortly after in hospital.
In addition to his family, the many people who attended his funeral came from both the law enforcement and the law breaking sides of society. Whatever his faults, Johnny Ramensky was respected by them all. What a guy.